For 2008 taxes (income from year 2008)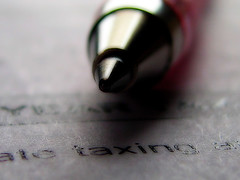 These are the tax tables that you will use to determine where you stand with the IRS.
After you fill in the proper amount of income on line 43 on the form 1040, you will be able to use this table to learn what your tax will be.

Click here for the PDF file for the 2008 Tax Tables

If you need more specific information please visit www.irs.gov after all they wrote the book on this stuff.
It can be complicated so these pages are meant to be informative about income
tax tables and yet always subject to the IRS' changes etc.
This info is gleaned from the IRS pdf file Here